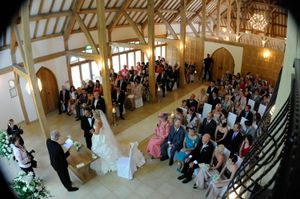 "Dear Jon, We wanted to write to say thank you so so much for playing at our wedding. When we discovered your website we loved what we heard – but then having the opportunity to meet you and see you perform in Sutton confirmed it even more! Your extent repertoire and willingness to learn a song choice for us was extremely impressive.  What really stood out for us when we saw you perform was your personality really shone through.On the day as our guests arrived for the ceremony and took their seats, it took them a while to realise they weren't listening to a CD!  Then with the music you played for us whilst Katherine walked down the aisle and whilst we were signing the register – it made it so special for us – exactly how we'd pictured it. Our friends have not stopped complementing your performance during the drinks reception. Your music really made the atmosphere in the courtyard – and we heard there may have been a few sing-a-longs too...in particular to Hotel California! Thank you for being so accommodating with our song choices and for your great communication – always getting back to our e-mails. We are already planning when we can have the next party and book you again. I can't recommend you enough to any brides and grooms out there thinking about booking you for their special day. Thank you for your wonderful music. Warmest regards" 
Katherine & Jon
 (Mr & Mrs Kilby) - Rivervale Barn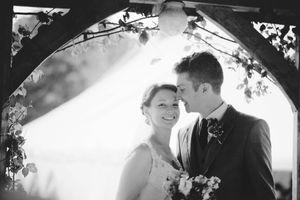 "Jon played a beautiful acoustic set outside in the gardens at our wedding. It fitted the mood perfectly and the guests had nothing but praise for him. He was discreet, professional and friendly but most of all a great performer who really added the perfect final touch to our day. he was a joy to have around and I would recommend him straight away for anyone looking to add that special touch to their day."
Beccy & Rob - Gants Mill
"
Hi Jon....we literally cannot thank you enough you were incredible, you really made the night. One of the things we were personally most nervous about was the first dance which turned out to be a glowing highlight, such fun throwing ourselves around. Everyone was asking how we knew you and assumed you must have been a friend of our because "you don't get musicians like that doing weddings" we assured them we had been incredibly lucky and passed on your details. Other than actually getting married to my beautiful wife, your music and the incredible atmosphere it created led to one of the most fun evenings I can remember. Again thank you so much." 
Rob and Danni - Groomes
"Jon was AMAZING! He made our wedding perfect and everyone commented on how amazing he was. We asked Jon to sing before the ceremony, during the drinks reception and during the wedding breakfast and we cannot fault him. He had people singing along and dancing in their chairs. At one point he had all the guests singing along to 'Hey Jude'!! We're not sure that was what he was expecting but he loved it all the same! Everyone had such an amazing time and enjoyed Jon so much that there was outrage when he finished and after a few pleas from many a guest, we were fortunate enough to have him continue his set a little longer. One family friend loved him so much that he wants to know if he would just come and sing for him in his garden!! We suggested that he buy Jon's CD instead! We cannot thank Jon enough for his performance at our wedding. It truly was fantastic. He is extremely talented, has a beautiful voice and had the crowed eating out of his hand! We would also like to say a special thank you for learning a song that is not usually on his set list but is one of our favourites. Thank you Jon for making our day unforgettable and perfect." 
Aimee and Lee - Horsley Park
"Jon, thank you so much for a fantastic performance at our wedding. An absolutely flawless act that we will never forget. Every song you sang was just perfect and you were the talk of the wedding breakfast. I'm so glad we found you!"
Matt & Louise - The Conservatory at Painshill
Click here for more Wedding testimonials
Parties, Corporate & Social Events
"Jon, we would like to say a huge thank you for an amazing performance at our Conference. Everyone was blown away by your vocals and that we were able to do song requests. Everyone was raving about it the following day. We definitely recommend Jon for any event!! He brings an amazing presence and energy to the stage and is an overall great performer!!"
20th Century Fox at The Grove Hotel

"Hi Jon. Just a quick line to thank you for your great performance at Juliet's 60th birthday party, many of our guests have been in touch with us to say how much they enjoyed your music. Your punctuality and flexibility on set times helped the evening go smoothly and was much appreciated. I don't know if you met my pal Peter on the night, he also made his living as a guitarist when he was younger, he can be a tough critic but was very impressed with your talent. I hope to book you again sometime, when the occasion arises." 
Peter Harper

"Jon. Thank you so much for the wonderful gig you did at my birthday party. My guests and myself thought your performance was very professional and all said you have a great voice and you are also a brilliant guitarist. You certainly got us all dancing throughout the evening with your fab playlist choices. So a wonderful, successful, unforgettable evening was had by all. Take care and thank you so much again for making my evening special." 
Val


"This is a beautifully performed and recorded track. Hart's tumbling, twinkling acoustic guitar part runs through the song like a waterfall, while he sings of love and spiritual renewal in a firm, high voice: "I saw a brand new life...I was so surprised." There are gossamer-fine vocal harmonies swirling around the mix and the melody is broken up by a succession of bewitching instrumental interludes as bass strings are thwacked, and glistening harmonics ring out from the upper register. The world is not short of singers accompanying themselves on acoustic guitar, but this track raises the bar to impressive heights."

David Sinclair - Rock & Pop critic at The Times in London -
Review for Stormy Weather Rolls
Review for Stormy Weather Rolls:
"A terrifically accomplished musician - a very, very interesting track."

Pete Donaldson - Absolute Radio DJ - Review for Stormy Weather Rolls


"Nice Licks Dude"

Fink

"Sounds great Jon"

CandyRat Records (Home of Andy McKee, Antoine Dufour, Jon Gomm and many more)
Click here for more Fingerstyle Testimonials
"We used Jon to do vocals for our forthcoming album. Firstly he has an excellent voice, which is both versatile and strong. We did a full day's vocal recording without a problem covering Funk, Rock and Alternative Dance. Despite attending rehearsals he put in his own time to make sure he knew the songs on the day of recording and got fully behind the material. Both us and the studio engineer were impressed with his professionalism and the quality of the vocal laid down. Not only that he's a good bloke to work with, listened to what we wanted and also put forward some of his own vocal ideas. I would have no hesitation in recommending Jon for session work and would use his vocals again for our future material"  
Aaron Perrott, Mock The Wasp

"Jon... recorded his own material at my studio and I have found the speed of which the recordings have gone to be very impressive. Vocally, he is also very talented. His tone and excellent pitching require very few takes. I find Jon very relaxed and friendly however maintaining a flexible and professional manner at all times. Jon's impressive guitar skills in most musical genres give him the ability to apply the 'right feel' for the recordings quickly and effectively. "  
Steve Green - Creative Director, Sound Addiction Limited

Every week, bandzoogle highlight one of their favorite websites....
Who: Jon Hart
What: Guitarist, Vocalist & Beatboxer
Where: London, UK
Why his website rocks: Jon's site has several great elements, but we especially love his Homepage. The header image is really well-designed, and tells you exactly what Jon does. In his welcome message/bio, he links to internal pages which helps guide visitors to what they're looking for. Right there on his homepage is a video to immediately showcase his music and fingerstyle guitar playing. He also has a nice call-to-action, latest news, and links to his social media profiles, all well-placed and well-organized. Jon really incorporates the "6 Essential Elements of a Website Homepage" perfectly!
Check it out at www.jonhartmusic.com
Dave Cool - Bandzoogle.com